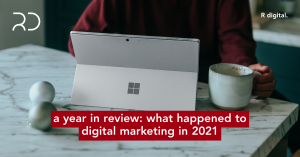 For digital marketing in 2021, social media was king. In the constantly changing field of digital marketing, it could be said that 2021's changes contributed to a complete transformation of the approach typically used for brands in social media. The trends that originated in 2020 and flourished in 2021 are likely to keep doing so in 2022.
The pandemic's mandatory isolation made social media a necessary hub for human interaction and one's proximity with their loved ones. As such, the way social media is used and the demographics using the various social media platforms have changed forever.
Here is what the trends and approaches for social media look like while reaching the end of 2021:
Social media becomes a major shopping platform

The necessity for remote and virtual shopping during the pandemic made social media quite popular as shopping platforms. In fact, social media users who hit the 'buy' button on brand posts have increased by more than 25%. It is projected that this percentage will only increase in the future.
Among the various social media platforms, Instagram became the leading social media shopping platform with Facebook in close competition. To cater to this trend, most social media platforms are adjusting their features and offerings to make it more efficient for brands to sell there. For example, as early as 2019, TikTok started exploring the option of including product links.
Consumers rely more on social media for shopping

It has been a general trend that the younger the target audience, the more likely it is to be reached on social media. However, due to the pandemic, demographics traditionally reached by TV ads, such as baby boomers, are now reachable over social media.
Consumers are also more likely to seek customer service over a social media platform rather than the more traditional phone or email.
User attention span is growing shorter
User attention span has lowered to 8 seconds, from 12 which was the average in 2000. This means that while users spend more time on social media, as we'll see below, they engage a lot less with each post. Engagement becomes even shorter when accessing social media through the phone.
To address this, short-form content that can be consumed in that time is what most marketing trends are pointing at, such as short-form videos.
Short-form videos are the future
Posts that include some short-form video are likely to receive even twice the engagement of a photo post. Most social media platforms are moving towards short-form video content options.
TikTok is the leading social media platform in this area, with short-form videos being the main feature. To compete with that, Instagram launched Instagram Reels for users to upload videos of up to 30 seconds in length. These Reels generated a lot more engagement than traditional Instagram videos.
It's indicative of how powerful the short-form trend video is in YouTube's 2020 addition of YouTube Shorts to compete with TikTok and Instagram. YouTube Shorts are now lauded as a primary method of generating engagement for YouTube channels and native monetization of said Shorts is in the works.
Live streams are a growing industry
Due to the pandemic, many people opted to watch live streams for social events, meetings, and big international happenings, such as music concerts. Since 2020, the livestream industry has been rapidly growing and it doesn't look like the trend is going away for 2022. In 2020 alone, livestream revenue reached 610 million dollars.
Social media have become a bigger part of consumer routine
Social media platforms, with Facebook still in the lead despite some bad press hang-ups in the past year, have become a big part of consumers' daily lives. The average social media user spends about 2 hours and 45 minutes on the various platforms.
New social media platforms are constantly introduced to the public, with the main ones projected to remain in the lead for the upcoming years.
Augmented Reality (AR) is around the corner
Though AR is still in its infancy and thus not very used yet, it is expected to become dominant in the coming years. For this reason, social media platforms are already preparing to incorporate AR in their interface.
Facebook's rebranding as Meta, looking to the metaverse and AR/VR technology, is indicative of the sheer investment going in the particular technology as network systems become more robust for the average user. Games using AR, from Pokémon Go to Pikmin Bloom, are yet another glimpse of what looks to be our AR future in social media, work, and recreation.
Using User Generated Content (UGC)
UGC gives consumers a feeling of authenticity, which is of growing importance to most target audiences. Therefore, UGC is a lot more likely to convert. Brands are increasingly including UGC to come across as more relatable, more socially responsible, and more authentic. UGC can often be cheaper compared to traditional campaigns, as well.
Social media is a prime source of UGC. Instagram and Facebook, for example, are great for UGC marketing, which audiences find more trustworthy compared to traditional advertising.
All in all, social media has emerged as a major, and effective, marketing tool for brands across industries, and will only be enhanced as such in the coming years.