Working with a certified Digital Agency is a must!
The reason is very simple – A certified agency validates its expertise to get the most out of your campaigns.
Certifications prove that a digital marketing company has the knowledge to advertise and monitor results, and subsequently achieve the highest possible Return-on-Investment (ROI) for its clients.
Following are some of the key benefits of working with a Certified Agency.
Direct connection with technology giants
Being a Certified Partner means you shall follow a strict set of parameters and that you are constantly being evaluated to the highest standards of best practices.
You work with experts
When investing money into digital marketing, you want to work with a company that will bring you the best results. It is required for Certified Agencies to have in-house Certified Professionals who are experienced and knowledgeable in all areas of the platforms they are utilising and, also, proficient in advanced areas.
Great client service
Certified Agencies are part of private networks and have connections with key individuals whose job is to help partners tackle uncommon issues and maintain standards. By receiving educated advices from its partners on an on-going basis, means you can enjoy a seamless client support service from a Certified Agency.
Early-access to upcoming features
Certified Agencies have access to beta features and are always informed about new products. They are also tested by its partners on the new features prior to public launch. This ensures you are always ahead of competition.
Accurate and up-to-date practices
Being a Certified Agency means that you actually practice what you preach. You are under constant evaluation and strict supervision by your partners for keeping up with latest trends and best practices. Subsequently, you are always aware of the changes in the fast-moving environment of digital marketing and advertising.
R Digital
Accreditation and recognition are core values for R Digital. Ensuring the delivery of high levels of quality is what keeps our doors open.We are incredibly proud to have been able to get the following partnerships, certifications and awards.
Facebook Marketing Partner
R Digital is accredited by the Facebook Marketing Consultant certification, which means that it's the right partner to help you get the most out of Facebook's suite of ad tools and subsequently increase revenue, optimize ad spend and enhance your measurement strategy.
The Facebook Marketing Consultant program drives value for Facebook advertisers by enabling them to discover vetted service providers who are experts in removing roadblocks and setting up optimal Facebook marketing, such as pixel deployments, product catalog setup and dynamic ads campaign setup.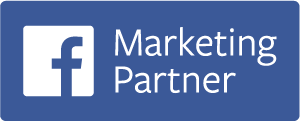 Google Partner Agency
R Digital has been officially certified by Google as a Partner Agency. Our team has demonstrated the skills and expertise to help clients grow their customer base and revenue income by utilising Google Ads.
Becoming a certified Google Partner Agency means you are constantly evaluated to maintain a high standard of Google Ads service. This status requires an agency to have employees who are certified Google Ads experts. Agents must meet Google's requirements, and standards, via sustained growth in client base and participation in training programs.
A Google Partner Agency does not only deliver a visually better-looking campaign but also helps companies decrease their ads costs and increase reach and conversions. When you consider hiring a digital agency to outsource ad campaigns, make sure you check its Google Ads qualification, reporting experience, and the way it optimizes campaigns.

Fundamentals Gold Achievement





Analytics Master Achievement

Search Master Achievement

Display Master Achievement


Mobile Master Achievement
TikTok Partner Agency
R Digital is a certified Partner Agency of Tik Tok, one of the world's fastest-growing video-based social app. Tik Tok accredits our Agency that it develops the best practices to reach diverse audiences around the world through TikTok Ads, an all-in-one marketing solutions platform.
With our team's advanced advertising tactics, you can tap into unique engagement solutions and immersive formats to creatively and authentically connect with audiences around the world, by connecting with the consumers of tomorrow in 20+ markets worldwide.
MailChimp Partner Agency
R Digital is an official MailChimp Partner, ensuring the maximum success of your email marketing campaigns.
The MailChimp Partner Program is a community of high-caliber agencies, which get an insider's view of Mailchimp, 24/7 priority support, and exclusive educational resources.
MailChimp Partners receive access to educational advice and tools to better understand the industry, email marketing best practices and the MailChimp platform itself. Agency Partners have access to exclusive Partner-only content including company news, product roadmap insights, case studies and most importantly tips for auditing clients' accounts, email best practices, access to beta products and more to help our clients stay ahead of the game.
With exclusive benefits and insights, MailChimp partners are equipped to better serve their customers and grow their business.
HubSpot Certified Partner
R Digital is an official HubSpot Certified Partner. HubSpot is all about a modern marketing methodology – an all-in-one software is for companies that want to grow their businesses by providing exceptional inbound marketing and sales services to their clients.
HubSpot Certified Partners get the guidance, support, and training to help their agencies and its clients grow and succeed.
The Partner program is designed to acknowledge those Agency Partners who have not only brought the inbound message to the most clients, but also those who executed inbound marketing services to the highest standards.
Contact us today –
Your brand is in safe hands!