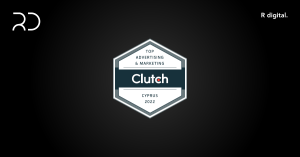 Clutch nominates R Digital as one of the best PPC agencies in Cyprus!
PPC, SEO, and social media marketing have been very popular recently thanks to the larger number of people going online. Many companies utilize these strategies in order to improve their sales and reach their goals. At R Digital, we are passionate problem solvers who help brands reimagine and reinvent their digital world, by challenging the market, driving innovation, and accelerating business performance.
As a matter of fact, our team has been awarded as one of the best PPC agencies in Cyprus according to Clutch. This award means a lot to us and we are very honoured to be on this list of talented and amazing companies locally. We are very proud to share this news and to celebrate this incredible milestone with you.
Clutch, in case this is the first time you are hearing about them, is an established platform in the heart of Washington, DC, committed to helping small, mid-market, and enterprise businesses identify and connect with the service providers they need to achieve their goals.
We are very proud of our team for being featured highly on Clutch! Thank you for always putting your best foot forward for our clients. You've been incredible and we couldn't have asked for better people to work with.
Lastly, we would like to thank all our clients and partners for trusting us and for supporting us throughout the years. You've been vital to our success! There wouldn't be an R Digital without you.
Get in touch with us! We are happy to answer any questions you may have or discuss your project.