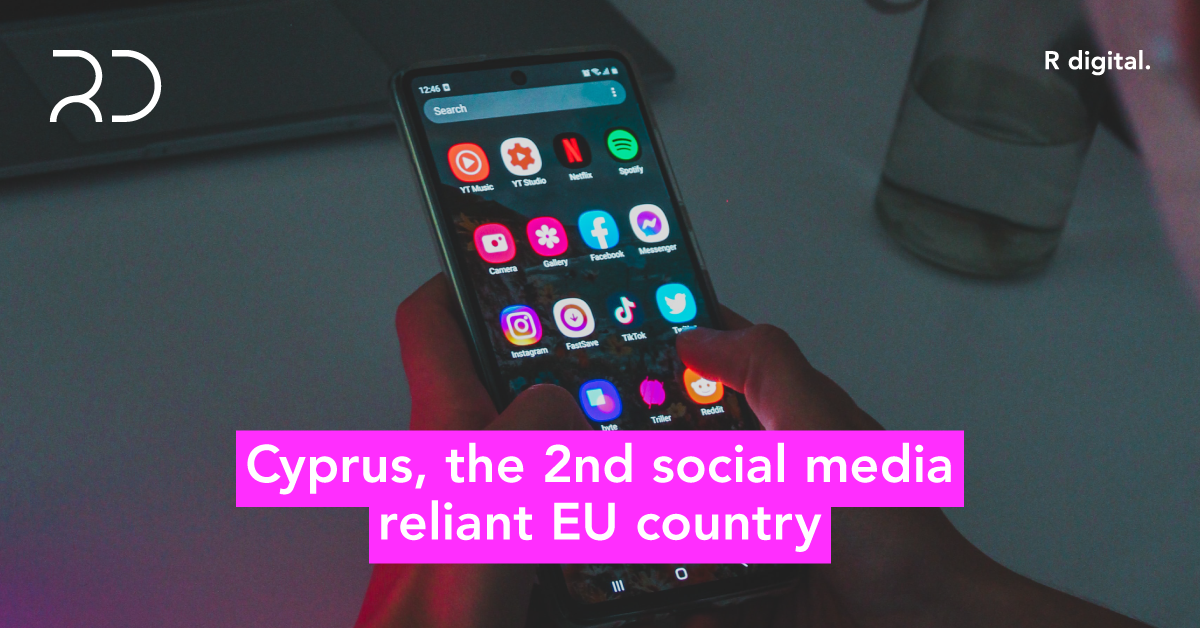 A recent study by AskGamblers has revealed the European countries that are most reliant on social media with Cyprus assuming the second place, with an impressive 97.97 out of 100 score in the rankings. This means that almost 94% of our island's population is actively using Facebook, 63% are using Instagram and 66% are using Messenger. That's a total of 1,170,400 Facebook users, 788,000 Instagram users and 825,300 Messenger users as of December 2022.
Iceland skyrocketed to the top of social media usage rankings with a record-breaking score of 98.14 out 10,000! This Nordic nation boasts an extraordinary 327,700 Facebook users – making up for nearly 93% of its total population – as well as 213,100 Instagram and 248,900 Messenger app fans. Concluding the top three is Malta with 89.71 out of 100 for social media usage.
So why is Cyprus so reliant on these three major social networks?
The country's high score is largely due to its penetration into all three major social platforms – a testament to how important they are to everyday communication and to connecting people and businesses, keeping them all up with the latest developments, more easily than ever before.
For many Cypriots, it's also become a primary source for news and updates on current affairs both at home and around the world. Moreover, social media enables businesses in Cyprus to expand their reach into national and international markets and provide more opportunities for economic growth in the region.
Overall, this research highlights just how essential social media has become in everyday life – not only providing us with entertainment but also keeping us informed and connected across borders. It stands as a reminder of how technology can improve our lives if used properly and responsibly. The researchers suggest that Cyprus' high reliance on social media can be attributed to the fact that it offers something unique when compared to other countries across Europe.
It's clear that social media has become an integral part of life in Cyprus – so much so that it can no longer be ignored when considering how individuals interact with one another or how businesses market themselves online. With so many people now relying heavily on these platforms for communication purposes alone, there's no doubt that they'll continue playing an important role in the lives of Cypriots for years to come!
R Digital is following all developments when it comes to digital marketing and online presence, as our agency is always ready to assess your presence on social media and provide the right guidance but also strategy when it comes to marketing your products or services.
Our island is now digital oriented and our expertise in various local and international campaigns gives us the confidence to walk side by side with the future, always having the goals of our clients on the horizon.