the case
Although only recently founded in 2019, 2033 Wine & Cocktail Bar has already earned a special place in the hearts of experienced cocktail lovers and those seeking to discover the exquisite elements of Nicosia's nightlife. 2033 is the ultimate wine and cocktail hub with a special menu where timeless classics meet with new creations in a blending of tastes and mixtures that can justifiably be called art you can hold and taste in an elegant, perfectly designed glass.
2033 needed to project that to its online presence: a presence that had to be accessible, elegant, efficient while also being the perfect sample to the kind of experience visitors will be experiencing.
R Digital accepted that challenge by undertaking the management of 2033's digital presence. R Digital's experience in creating a lasting and impressive online presence, as well as the team's own propensity for customizing and innovating strategies to create the perfect fit for each client on a personalized basis, were the perfect ingredients for what 2033 was looking for.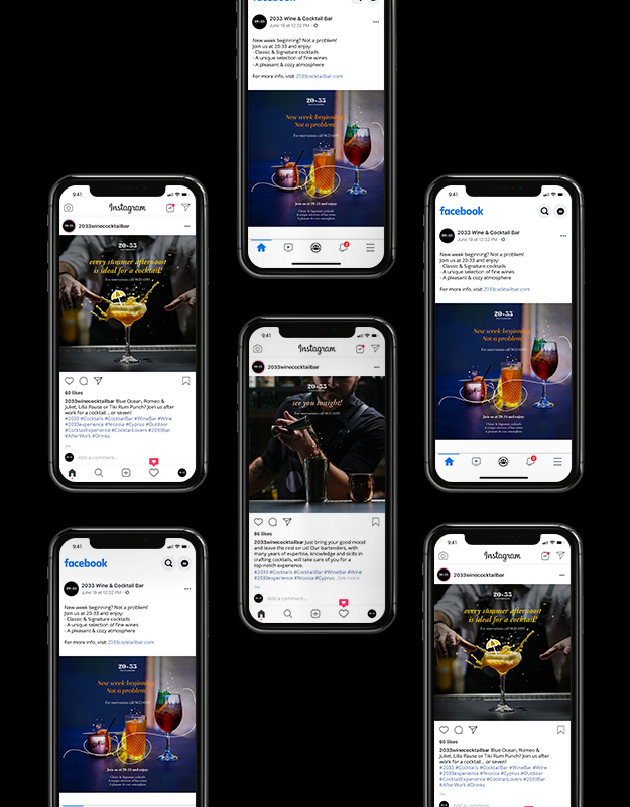 our approach
R Digital designed and developed an efficient, responsive, single-page, fully functioning website for 2033. The site isn't only SEO friendly and with uptime optimization, but it also offers the full experience of a multiple-page site in just a single page: five different pages are cleverly and beautifully presented in just the single one.
In the Home and About section, the user is initiated into the magical trip through the history of 2033, with a brief overview of the setting, time, and place. Eye-catching video of the cocktail experts at work set the mood and whet the appetite, inviting you to discover the night's perfect cocktail.
In the Discover section, prospective patrons are treated to a glimpse of what they will be enjoying in 2033, namely the excellent wine list, the unique and classic cocktails, and the friendly, retro atmosphere that is such a vital element of 2033's identity. The Menu section gives immediate access to 2033's three menus, for wine, cocktails, and food, in high-resolution pdf files.
In the Reservations section, the website visitors can make their reservations online using an efficient and user-friendly online form with several easy to use drop-down menus. In this manner, reservations can be made quickly and efficiently, with a call-back from 2033's staff to confirm the reservation guaranteed. Any additional notes can be sent with the booking via the 'Notes' comment box, thus ensuring an effortless and high-functioning way to avoid queues and waiting around to be seated and served.
R Digital team furthered 2033's digital presence in two additional ways: firstly, by carefully and meticulously enriching 2033's Google MyBusiness account with custom-made videos, photos with powerful imagery, and clever infographics. Secondly, by setting up 2033's TripAdvisor account with all necessary information.
With everything set up just right, our team created the appropriate content and visual material to enhance 2033's social media presence in all relevant and popular platforms. Separate designs were made to ensure a perfect fit for each individual social media platform, as we are aware of the value of knowing and utilizing each platform's specificities and demands for maximization of visibility and for a higher click-through (CTR) and conversion rate. Also, R Digital designed strategic social media advertising campaigns to target audiences deemed to be the best match for 2033.
results
Through the efficient, tailor-made strategy we crafted for 2033, we firmly established the bar's online presence on all relevant and noteworthy social media platforms currently available. With careful design through video, images and proper graphic setups which perfectly fit the uniquely retro-historic profile of 2033's brand, we managed to project its style and elegance on the digital ecosystem.
With our team's social media management and advertising campaigns, we successfully increased the brand's exposure, click-throughs and conversion rates, leading to the generation of more leads.
The visually lush, yet quick to load and robust single-page website design manages to give the full experience of a multiple-page website. It maximizes usability and page load rate while making reservations is easy and efficient. Such high-end functionality maximizes conversion rates and positively primes 2033's patrons for a great experience, thus creating brand loyalty in 2033's clientele.
Our multi-dimensional approach successfully created a strong, robust digital presence for 2033, making the wine and cocktail bar retro only in what counts as the magical experience – just like a thrilling time machine should be.