the case
Hobbies are about passions we invest time, money, and effort in, even if we can't or choose not to profit from them. One such time-old hobby is coin collection and exchange. Often, coin collectors find themselves having to wade through unreliable resources to get new coins for their collection. But in the era of technology, this doesn't need to be.
That's why Eurocoins Auctions was established: to provide a safe, efficient, and pleasant environment for coin collectors to exchange, sell, and buy collectable euro coins, in a credible and reliable environment.
Designing a website for Eurocoins Auctions was a refreshing challenge: the needs for the site included an interactive interface for auctioning coins, a user-friendly environment for site visitors, easy management of a considerable bulk of user and item information, and an artistic design that would enable auctions to take place without interfering.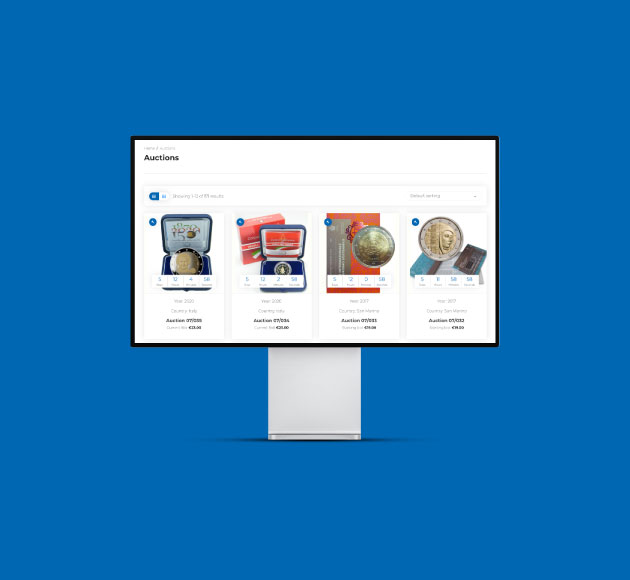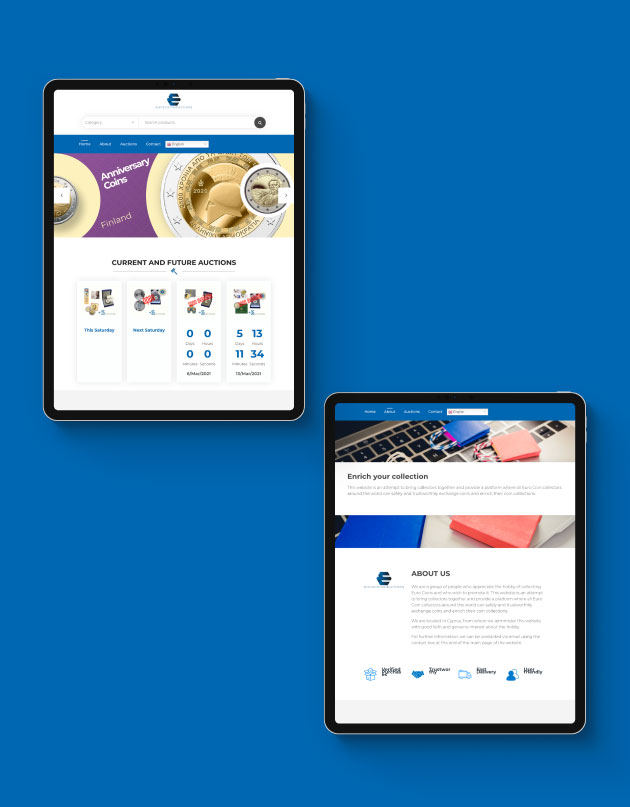 our approach
R Digital focused on creating what in effect are two systems of management. One for managing the general content of the Eurocoins Auctions site, and one for managing the auctions themselves.
Both systems held their own challenges: the site had to be responsive, interactive, compliant with all requirements and specifications, with straightforward and easy navigation, and a color scheme that would enable prolonged use of the site without distracting from the main activity – the auctions.
The auctioning system was also quite demanding in its requirements: Auctions must be managed with very strict parameters to maintain transparency and credibility for all users involved. They also need to be standardized and efficient with time limits, bidding limits, and established protocols for items that don't get the bidding required.
R Digital addressed these requirements by installing a comprehensive WordPress CMS (Content Management System) to ensure easy management of all content, including creating, editing, deleting, and publishing entries. Entries can also be easily scheduled for future publishing.
As far as the general environment is concerned, R Digital designed an elegant, modern, and minimalist design with graphics that are streamlined and functional for the site's purpose. The site was designed to be fully responsive for easy access and use on any device. The color scheme was carefully chosen to enable prolonged use of the site, efficiency, and readability while at the same time being pleasant to look at.
The auctioning system was built using the WooCommerce platform, as it is an open-source, completely customizable, SEO-friendly eCommerce platform. The auction system's functionalities include placing opening bids on auctions and reserving prices. If no bid is placed on an auction or the buyer doesn't pay the winning bid, the system offers the capacity of relisting the auction. Additional features include watchlists, safe closing, and bidding restrictions (such as a cap on maximum possible bidding amounts).
results
R Digital's Eurocoins Auctions design and development solution yielded a fully functional, user-friendly, responsive website.
Streamlined and elegant in its minimalist design, the ease of its use and straightforward interface make the platform's complexity simple for the end-user and efficient for the site administrators, allowing everyone involved to focus unobstructed on their passion for coin collecting!