the case
Goodburger is one of the best burger places in Cyprus, offering Authentic American Burgers at affordable prices, with consistent quality, value and commitment to its customers.
Our objective was to establish a strong digital presence on social media platforms in order to increase brand exposure, visibility and engagement with existing and prospective customers.
Down the road, and with impressive results on social media objectives, a new challenge was set: To develop a custom, online platform for Goodburger to further enhance its digital presence and to offer its customers the ability to place their orders online.
Development – Online Ordering Platform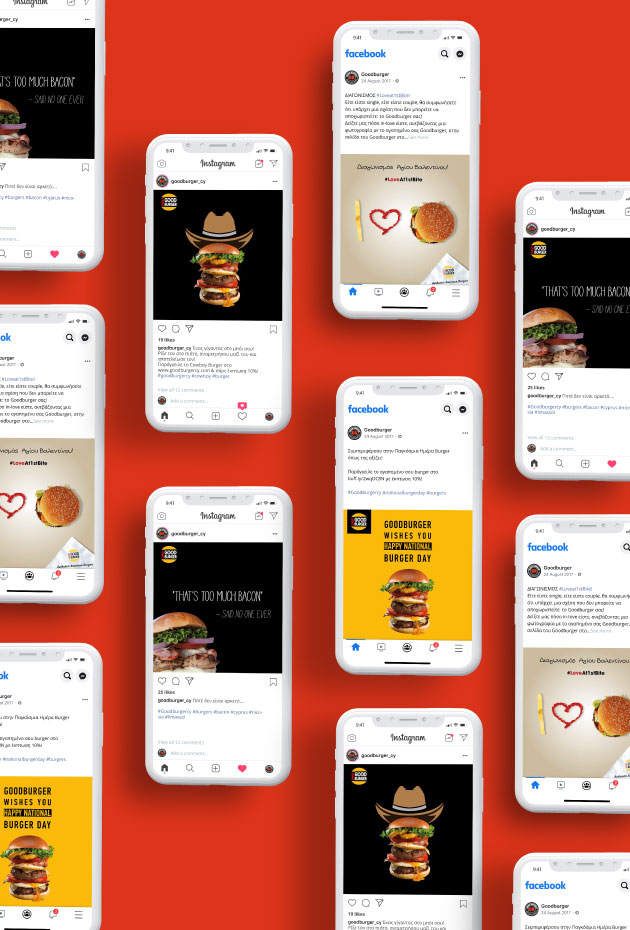 Content Production, Social Media Management, Social Advertising
our approach
At first, we thoroughly devised social media management and advertising strategies for Goodburger in order to increase the brand's client base and enhance exposure. Our strategy also involved strategically targeting people with interests in restaurants and dining by providing relevant and captivating content.
We optimized Facebook and Instagram by developing consistent content that showcased Goodburger's authentic food and USPs. The content strategy was developed with the aim of intriguing social media users with topics focused on brand and product information, offers, competitions and more.
Goodburger's social media fans embraced willingly and enthusiastically the brand's new digital presence and this led its owners to the decision of assigning R Digital the project for developing a customised online ordering platform.
Furthermore, our team delivered the outstanding Reactive Online Ordering platform, with the following characteristics:
The Backend and CMS were built using Ruby On Rails which is widely used in large production applications such as Github and Shopify.
The Front-End was entirely built using ReactJS, a Javascript Framework that is developed and maintained by Facebook and used in highly complex projects such the Facebook Ads Manager, making it a very fast online ordering platform.
A complex business logic for online ordering stores was developed for creating numerous products depended with each other.
In addition, Goodburger's online ordering platform has the following features and functionalities:
Extremely fast browsing
Mobile/Tablet Friendly
SEO Friendly
Open Graph Friendly
Media Gallery Support
User Roles
Sales Prices
Products Customisation
One-Page Checkout
Users Sign-in and Sign-up Process
Multiple TAX Categories
Product Bundles/Meals
Take Away Option
Delivery by Store based on users delivery address
Specific Opening Hours and Days
… and many more!
results
Our social media management and advertising approach increased brand awareness and exposure while generating new leads through targeted advertising.
Our strategy was carefully developed to reflect the brand's values and mission, by properly communicating the brand's messages through the development of appealing and engaging content.
Once Goodburger's new online ordering platform was published, our strategy and approach were differentiated, and a new objective was set: To raise the actual conversion rate. In other words, to get the highest possible percentage of Goodburger's website visitors to convert by ordering through its online menu.