the case
H.C. Playmaster's mission is to ensure that children learn, play, and develop in safe, enriching, and fun environments. It is a leading company in Cyprus specializing in design of playgrounds, kindergarten equipment, specialized equipment for children, children's areas for restaurants, public venues, and airports, and more.
To showcase the vast range of services and products that H.C. Playmaster has available, a powerful website that reflected the company's values and approach to children's safety was necessary. Straightforward, elegant simplicity had to be combined with a capacity to display and allow for effortless browsing through the company's wide range of product categories for making an area a child's dream of safe play.
R Digital took up this challenge. Drawing on the vast experience of designing complex websites to be user-friendly, well-organized, and elegant, R Digital worked closely with H.C. Playmaster to create a robust, efficient website that would easily give users full access to what they need as well as a strong familiarity with the company's brand.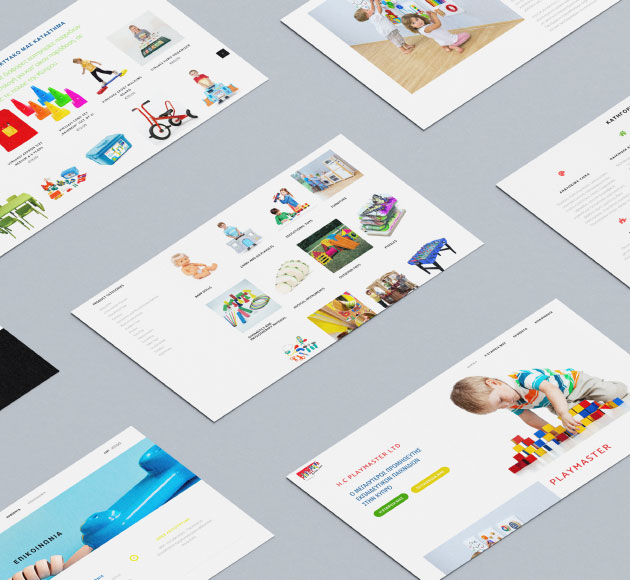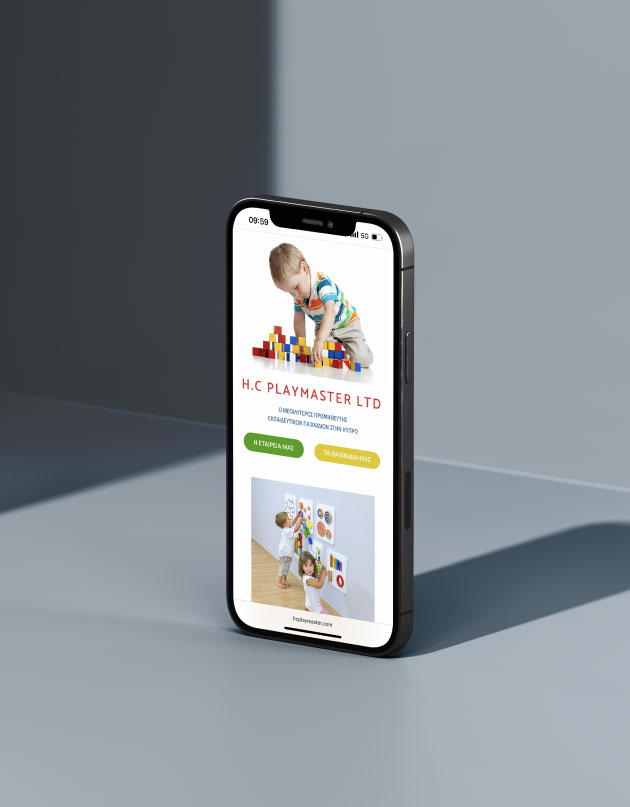 our approach
H. C. Playmaster needed their website to be able to support their vast selection of different products and product categories in an organized and easy-to-navigate manner. At the same time, the company mission and brand had to be showcased and present without being obtrusive for the users seeking specific solutions to their needs.
R Digital has extensive experience of making websites lean and functional without sacrificing their capacity to support a lot of data and functions. For H. C. Playmaster the most powerful Content Management System (CMS) was selected, which is WordPress. WordPress CMS makes websites powerful and functional while helping keep loading times at a minimum and customizability at a maximum. The website is fully responsive, making the website user-friendly across all available devices.
Regarding the artistic design, R Digital followed the H.C. Playmaster brand style closely, keeping the color scheme and site tools in compliance with Playmaster's logo. The design is minimal and highly functional, making the website appealing to the eye and enticing the user to explore it further.
One of the biggest challenges with this project was H.C. Playmaster's vast inventory and the need for it to be available to the user for browsing and for sale with easy navigation that doesn't overwhelm. For that purpose, R Digital opted for WooCommerce, a powerful e-commerce platform that allows for a lot of customization. Playmaster's eshop is highly functional with fully customized standard e-commerce pages that offer full control to the user (such as sign-in, user accounts, multiple payment options, and order confirmation feedback).
However, that wasn't enough: Playmaster's huge inventory required a massive import of all the company's products to the website. Not only that, R Digital thoroughly sorted through and categorized all products in user-friendly categories which will allow users to easily find what they are looking for.
Product presentation in the website's eshop section was designed to be effortlessly informative, giving users all basic information immediately, such as price, basic image gallery, and basic product description. All descriptions are displayed in Greek and English on the same page, making the website effectively bilingual without adding complexity.
R Digital also set up the website with Google Analytics and optimized it for enhanced Google search functionalities, to give Playmaster full control of all traffic data which will be further used in marketing campaigns and promotion. R Digital also made the site fully SEO-friendly.
To optimize website loading speeds and SEO purposes, R Digital offered its own robust hosting services for Playmaster's website.
results
R Digital's sophisticated, client-centered approach yielded a powerful, robust, fully functional and user-friendly website that thoroughly reflects H.C. Playmaster's brand: highly functionable, playfully attractive, deceptively simple, and easy-to-navigate despite the huge variety available to explore.
Playmaster's website is elegant, lean, and efficient, getting across the brand mission and vision with every click.