the case
Kountouros Brothers founded their company in 1988 with the mission to provide high-quality meat products. Adamos and Antonis Kountouros established a modest shop which was immediately embraced by consumers who appreciated the superior offerings. Today, the company has grown to sell exceptional quality meat products through 3 distinct locations. Apart from individual consumers, the company also supplies businesses, such as restaurants, hotels, and supermarkets.
Kountouros Brothers has always been a leading organization that implemented state-of-the-art equipment and modern methods to achieve optimal operation and excellent customer satisfaction. Therefore, it should come as no surprise that they aspired to become one of the first online butcheries in Cyprus. They already had the business expertise, exquisite quality products, and a loyal customer base.
What they needed was a capable partner to build an online store with robust functionality and beautiful design. R Digital has extensive experience in eCommerce applications and all the related aspects required to achieve a successful online presence. Kountouros Brothers additionally wished to promote through specialized digital advertising and follow the appropriate social media strategy to strengthen their eCommerce and overall business performance.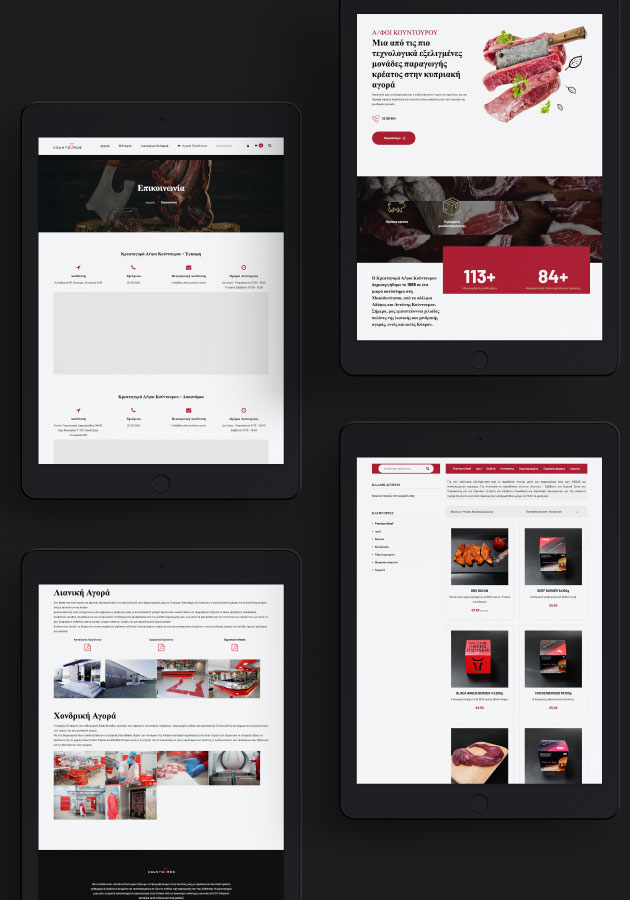 our approach
The R Digital team provided the desired eCommerce platform for Kountouros Brothers, along with a multitude of related services. To begin with, the server where the online store is hosted offers fast and reliable access with great guaranteed uptime that follows industry best practices. In addition, the website is SEO friendly, which assists with momentum in organic search results.
R Digital handled the uploading of products with their corresponding attributes, such as images, descriptions, SKUs, prices, weight, etc. This was performed in a way that maximizes usability, with fast navigation and page loads, along with informative presentation for customers. Of course, the visual aspect was taken into account as well, by appropriate image editing to maintain a professional look and consistency throughout.
Customers are granted the critical ability to view their order history and swiftly locate their items of interest through intelligent search, sorting, and filtering options. Since the current standards call for mobile-first design, the website was naturally built with mobile responsiveness in mind. It's easily accessible from all devices and offers the same amazing user experience no matter what.
With real-time synchronization, the orders can be accessed through the online store and the client's mobile commerce app through a seamless process. The eCommerce part of the website also demanded a secure and fast payment processor for customers to complete purchases and R Digital decided to integrate the SIX Payment Processor. This is because their payment services guarantee all-round acceptance of payments and enable end-users to pay with any major credit or debit card of their choice.
Furthermore, a successful eCommerce instance requires provisions for associated regulations, ensuring compliance with industry rules. R Digital made sure all legalities were adequately covered in this respect. To achieve a smooth operation, the eCommerce system offers powerful inventory and product management, including product variations such as meat cut options. The advanced functionalities extend to alternative shipping methods with their respective rates, as well as dynamic pricing with options to price both units and kilograms.
Finally, the eCommerce platform's efficiency can easily be tracked through comprehensive reports and data analysis tools. We also implemented Google Analytics for eCommerce and Google Search Console, to gain further insight and monitor performance. Our marketing team implemented social media advertising strategies on Facebook and Instagram, including content strategy with topics, such as general brand information, products, services, cooking and meal preparation tips. We supported Kountouros Brothers' ongoing social media strategy, with a series of effective social campaigns that were designed to increase awareness.
results
By creating appealing content, we were able to implement a successful advertising strategy with the objective of increasing the company's fan base and at the same time targeting people with relevant interests. Our optimization techniques allowed us to be more efficient and effective when developing social media campaigns as a means of standing out from the competition by being more relevant, open and agile to change.
The outcome was an increase in brand exposure and awareness, more leads and higher levels of engagement. Referral traffic also considerably increased as many visitors reached the site through various social sites. Our strategies successfully contributed to the establishment and presence of the brand in the digital environment, ensuring a strong online presence while staying relevant to the targeted audiences.
The eCommerce portion established Kountouros Brothers as technology leaders of their industry, by being one of the first online butcheries in Cyprus. It also provided them with a fourth channel for product distribution, apart from their 3 physical locations, thereby growing their business.