the case
Stavros Christodoulou is an award-winning Cypriot author, writer, journalist, and editor.
Born in Nicosia in 1963, Stavros Christodoulou has written three books, all of which have earned various accolades and acclaim. He is also very proliferated as a journalist for the Cypriot newspaper Kathimerini.
Christodoulou's style of writing and choice of characteristics tend to have direct and intimate connections to Cyprus and Greece's turbulent history. He also has earned acclaim as a modern noir author capable of imbuing his style of writing with suspense and mystery.
Stavros Christodoulou's official author's site would need to reflect all these facets of his writing and style, as well as be informative, efficient, and inviting for users to enter his world.
R Digital took up this challenge where artistic flair would need to balance gracefully with historical and political undertones, while keeping everything crisp, clean, and easy to navigate. R Digital worked closely with the author to accurately pinpoint the type of design that Stavros Christodoulou would prefer, the needs the site would need to cover, and the general approach to presenting his work.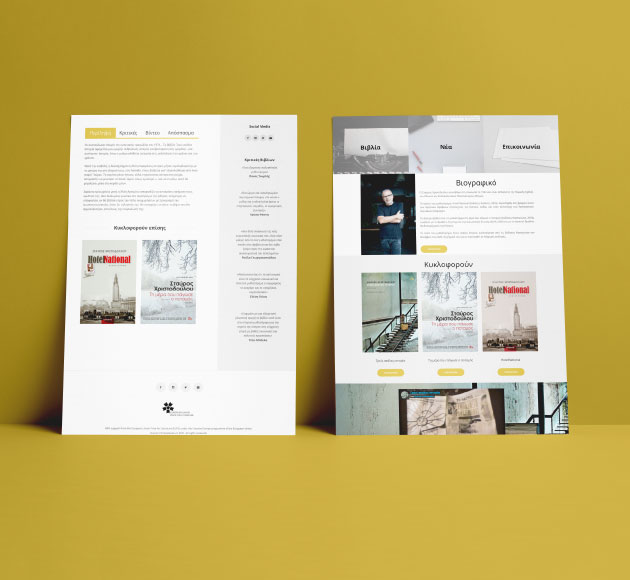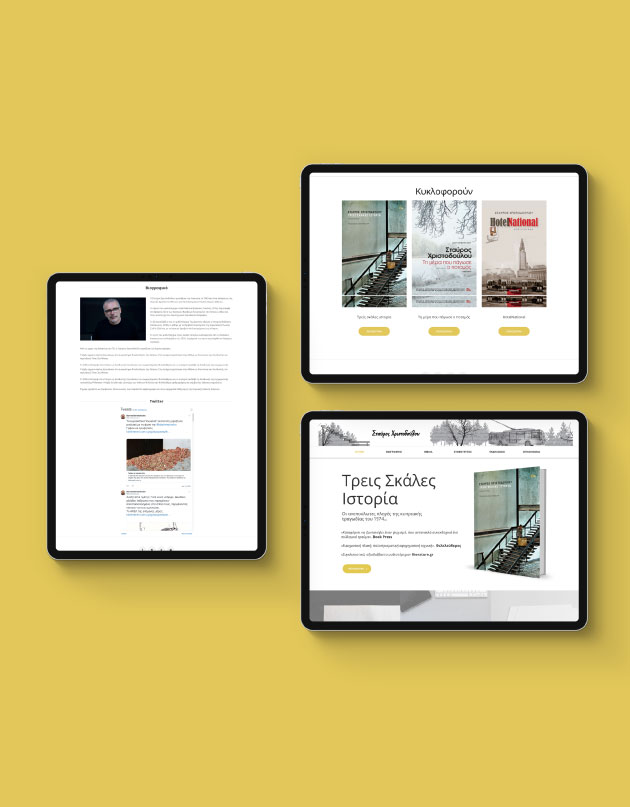 our approach
The design for Stavros Christodoulou's site had to be lean and elegant while supporting several different functions at the same time. It needed to convey the author's style and approach while also efficiently presenting his work, giving access to his social media, and having an organized archive of his various interviews and presence in mass media.
R Digital took up the artistic as well as the technical design. The site thus has a modern feel with a very powerful element of historicity and documentation. The website's structure is simple and straightforward, giving the user immediate control of navigation and ease going around the site.
To achieve this result, R Digital implemented the WordPress Content Management System (CMS) as it is not only one of the most powerful CMS platforms currently available, but also the one that offers the biggest flexibility and customizability to its themes.
Special attention was also given to the navigation of the site, to invite users to browse it comfortably and get the best experience while doing so. The menu is therefore constantly present without being intrusive. The menu reflects the site's structure, with drop-down menus in place where necessary.
Because Stavros Christodoulou's work and general activity are quite multifarious, separate pages were used for showcasing each one. However, a taste of each is presented in a quick and pleasant manner with a dedicated landing page for each of the books.
R Digital focused especially on the presentation of the author's books, which is done in an interactive manner. Clicking on each book, a user can readily access the summary, reviews, and translations relevant to each title, while also primed to click on the other works as well.
The author's several interviews were also grouped together in an organized yet inviting manner in a thorough archive that can be accessed by type of interview as well.
R Digital also took care of the hosting for the site, guaranteeing the minimum of loading speeds for an already fast site. Google Analytics was set up so the author can monitor traffic. R Digital also set up a Search Console Account and submitted the site's sitemap to achieve better indexing status and optimize the site's visibility on the web. This makes the site search engine friendly.
Lastly, the site was made to be responsive and social media friendly, optimizing the user experience on all types of screens.
results
Stavros Christodoulou's site achieves everything the author needs: it has an efficient presentation of all his published works, a rich and comprehensive archive of all his interviews and other mass media presence, gives access to the author's social media, and makes it easy and efficient to contact him.
Thanks to R Digital's experience and expertise, all these functions are organized seamlessly in an elegant, modern site that still gives a sense of the writer's artistic flair. R Digital has managed to round up the author's style visually as well as in terms of content.