Tears were shed. Bottles were opened. Smiling and proud faces, in every corner. In minutes, an unexpected party started. And it was beyond this world! That was the moment our team found out that we did it! R Digital's skills and hard work has been recognized and acknowledged by Facebook and we were awarded the Facebook Marketing Partner Badge which we can now show with pride.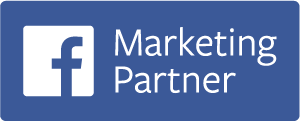 We have been recognized for expertise in the following industry verticals:
Retail
eCommerce
Energy & Utilities
Automotive
Financial Services
Education
Technology
Gaming
Healthcare
Professional Services
Travel
Telecommunication
Consumer Packaged Goods
Entertainment
Government & Politics
And we are proud to continue serving clients on a local and international level and from today as a Facebook Marketing Partner.
By naming R Digital a badged Facebook Marketing Partner, Facebook acknowledges the organization's readiness to help and excel clients and marketing campaigns with deep integrations and technology designed for growing corporations. According to Facebook, the goal of this new program structure is to make it easier for marketers to find partners based on their specific needs, like scaling their ad campaigns or improving campaign insights.
R Digital's solutions combine deep digital media knowledge with innovative technologies and advanced workflows, enabling marketers to deliver more relevant ads, extra personalized messages, and enrich creative performance at greater scale.
With their complete suite of innovative media solutions, R Digital can help marketers build a dynamic and customizable digital advertising ecosystem and address issues whilst deploying, optimizing, and measuring the performance of campaigns across social platforms. These include:
Integration: Integrate your website products with Instagram Shop and Facebook Catalog.
Customization: Deploy personalized ads by recording each action taken on your website. Not just visitation. Record Call-To-Action, Add To Cart, Register clicks, user behaviour flow and target them and their similar audiences, always based on their own detailed actions.
Expandable: Tag products on Instagram and Facebook Posts and drive traffic to your website. Target your ads based on each product or service a user visited from previous ads or direct traffic
Iterative: Deploy personalized ads and navigate users through the conversion funnel and creative pipeline across platforms, languages and regions.