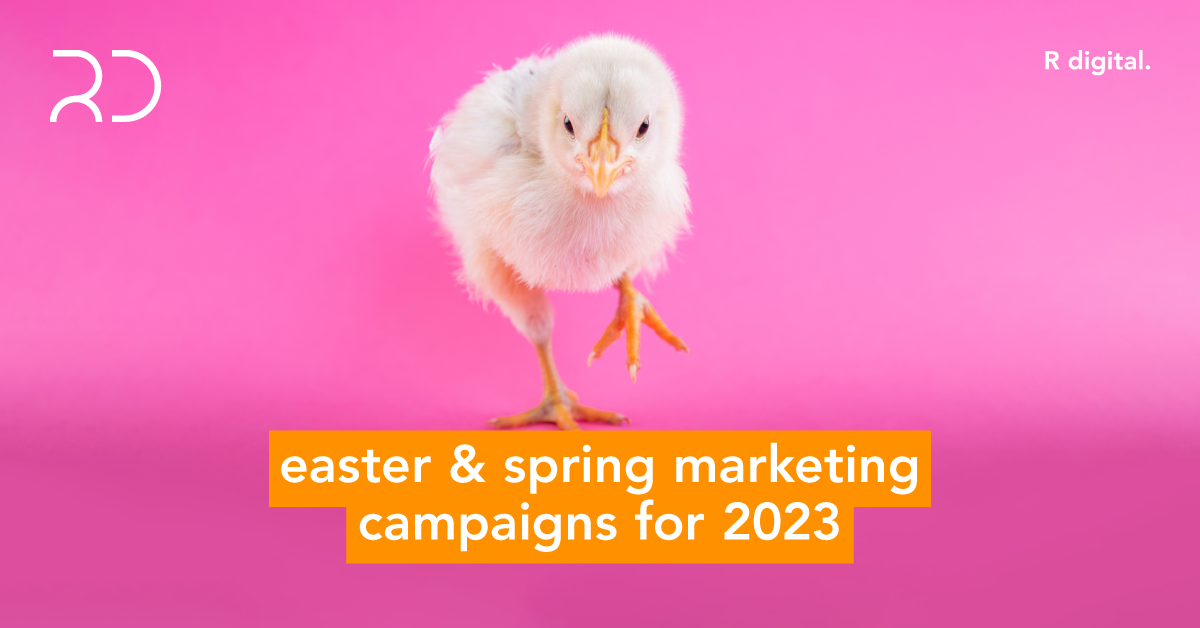 As the days start to get warmer and brighter, many of us begin to look forward to Spring and Easter. Whether it's painting eggs, assembling bunny-shaped baskets, or organising a spectacular family dinner, celebrations are a time to bring joy and togetherness. But for businesses and entrepreneurs, this time of the year also presents an opportunity to engage with their customers in unique and creative ways. With Easter just around the corner, now is the perfect time for companies to explore new marketing tactics that can help create deeper connections with current clients and attract new ones.
R Digital has come up with a helpful idea guide that can provide you with plenty of inspiration when it comes to leveraging the power of Easter celebrations and setting up for success in Spring. From crafting special offers through ad campaigns or organising contests on social media platforms – these ideas can help you create meaningful experiences for your audience while also boosting your sales.
In-Store Treasure Hunt
An in-store treasure hunt is a great way to get customers to engage with your products or services. It's an interactive and fun experience that can be tailored to fit your brand, giving customers a unique shopping experience. With an in-store treasure hunt, customers can search for clues and explore your space to find "treasures" like discounts or special offers.
This type of user-generated content marketing allows businesses to create memories, promote products or services, reward loyal customers, and build relationships with their target audience. For example, you could give customers special prizes for completing the challenge such as discounts on new items or free shipping on orders over a certain amount. You could also offer exclusive access to new product launches for those who complete the hunt first. Additionally, running competitions online allows you to measure metrics such as engagement rate, conversion rate and overall customer satisfaction levels.
An in-store treasure hunt is an effective way to drive sales, increase brand loyalty and build relationships with your target audience. By creating unique experiences that reward customers for their participation, businesses can create memorable moments that will stay with them long after they have left the store.
Classic Email Marketing
Email marketing is an excellent way to promote your business and products during Easter and Spring time. It is a great way to reach existing customers as well as potential new ones, by targeting them with specific offers, discounts, or messages. You can even segment your email list further based on the customer's preferences and interests, making it easier to craft a tailored message that will be most relevant to the recipient. Additionally, you can use email marketing campaigns to announce new products or services, showcase success stories and introduce special deals for the holiday season.
By taking advantage of this cost-effective form of advertising, you can engage more people with your brand and generate more leads at the same time. To make sure that your email marketing efforts are successful, remember to include good, quality content in each message – such as interesting articles about your company or industry news – as well as eye-catching visuals like videos or photos. Additionally, make sure that all emails are mobile-friendly so they are easy to read on any device. Finally, measure the performance of each campaign by tracking open rates and click-throughs in order to refine future strategies and maximize returns.
Temporary Seasonal Branding
This time of year is the perfect time to show off your creativity and create a unique, eye-catching look for your business. With the use of temporary branding that relates to spring and Easter celebrations, you can capture your customers' attention and help them excitingly connect with your brand.
It's important to keep in mind that Easter, for example, is about celebration and joy, so make sure your promotional materials reflect this sentiment. Use bright colors, festive graphics, and catchy slogans to draw people in. Consider utilising popular seasonal elements such as chicks, bunnies, eggs, and flowers and create a recognisable image that will differentiate you from the competition.
Social Media
To maximise your social media campaigns during this holiday, make sure you are getting creative with your content and use your adv spending budget wisely. Post user-generated content such as pictures of customers enjoying themselves at an Easter event or using a product related to the holiday. Doing this will show followers that they are appreciated and have a greater impact on the company's success.
Additionally, running contests or giveaways related to Easter can further engage customers and increase their loyalty to your brand. Make sure your team is responding back to comments in a timely manner, as this helps build trust between the business and its customers.
Other ways to maximize engagement include offering special discounts or exclusive deals for followers who share posts on their own social media channels, as well as creating polls or surveys that ask what type of content followers would like to see next from your business.
Finally, don't forget about stories! Use this feature on Instagram and Facebook to showcase behind-the-scenes moments from events or even highlight people within your company for extra engagement. By utilising all these strategies over Easter, you can successfully connect with customers and increase brand recognition during the holiday season.
Interactive Seasonal Landing Page
A fun way to increase engagement with your customers is to create an online, interactive experience for them. An interactive website allows users to play games and win prizes that are offered by your organisation. This can be anything from vouchers, discounts, or even exclusive products that are only available during this season. Not only will this encourage people to engage with you, but it also gives you an opportunity to collect valuable customer data that can be used later on to provide better services.
Interactive websites can be easily customised according to the theme of the season, such as Easter eggs for Easter or spring-themed decorations for Spring. You can also add links for people to learn more about what you have to offer and links for them to subscribe and follow you on various platforms. The key is in making sure that all the information provided is informative and engaging, allowing users to fully immerse themselves in the experience. With creative content and visuals, your audience will certainly appreciate their Easter/Spring experience!
For maximum exposure, make sure you promote your interactive website across different channels like email campaigns, social media posts, videos and other marketing strategies. This not only increases brand awareness but also helps build relationships with customers who may become frequent visitors to your website if they enjoy the experience enough.
Lastly, don't forget about analytics – use it extensively so that you look at which elements were more successful than others and how you could improve further on them in the future.