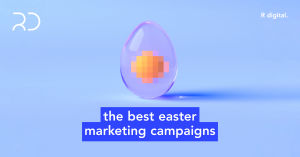 The Best Easter Marketing Campaigns
Finally, it seems that 2022's Easter season will be close to what we were used to before the Covid-19 pandemic! Travel is a lot easier; families can go out and big groups of friends can celebrate together. It is going to finally be a season that lends itself to fun, joy, and merriment with others.
This means that a lot of needs that were not present during lockdowns and restrictions, now will arise again!
Even if your business is not in confectionery, chocolate, or other Easter related delights, you can still benefit from the Easter season by launching excellent social media campaigns.
The secret to a successful Easter campaign is to adapt your product to Easter customs or make some associations with Easter. The following extremely successful campaigns can give you ideas on how to do that!
Cadbury's "How Not To Eat Yours"
Cadbury's Crème Eggs are extremely popular and already dominate the market, since they are always associated with Easter's peak custom in the West: the Easter Egg Hunt!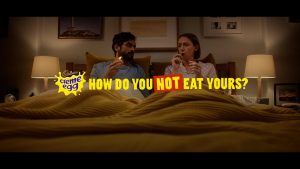 For 2022, however, Cadbury's released a special, limited edition Crème Egg which comes attached with a challenge: if you find one during the Egg Hunt but can resist eating it, you can win up to £10k.
The campaign includes two film shorts and several articles in various online publications, including social media platforms like Instagram, that describe the contest and the Egg Hunt. The campaign is already quite popular and people are already focused on the challenge.Cadbury's campaigns are quite successful in encouraging consumers to buy Crème Eggs by adapting to circumstances. Even during the tough, challenging circumstances of social distancing measures and mini lockdowns, Cadbury's campaign took the Egg Hunt to the digital dimension: consumers could send digital eggs to their loved ones and give them clues on how to locate the actual eggs, a practice which resulted in nearly 2 million site visits and over 14,000 eggs sold.
Walker's Savory Easter Egg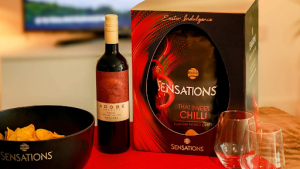 Easter is highly associated with sweets. Consumers that are avid chocolate lovers and really go for a sugar rush are front and center as target audiences.
However, people who don't quite like sweet foods or delights are less catered to the market. That's what Walker's realized in 2020 and launched the Sensations Easter Egg Gift Box. Instead of sweet tokens, this box contained Thai Sweet Chili Crisps, a bottle ofMalbec, stemless glasses and a crisp bowl, with a voucher for Amazon Prime Video: the perfect gift box for staying in or celebrating Easter during lockdown.
Once again, adaptability and the capacity to cater to consumers who aren't traditionally targeted during Easter season are the key themes to take away from this example.
Deliveroo's Game of Thrones Dragon Easter Eggs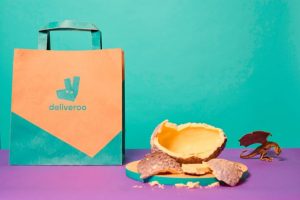 Easter can successfully be combined with other hypes and fashions of the times as they coincide, for further promotion and consumer enthusiasm around your products.
Deliveroo's 2019 campaign is an excellent example of that.Game of Thrones ended in 2019, and Deliveroo created an excellent Easter campaign to ride the wave of the hype: the limited edition eggs could be purchased together with other orders.The desire of Game of Thrones lovers to acquire the dragon eggs resulted in new accounts being made, and a lot of other brands and news sites picking up the story for extra publicity.
IKEA's Flat Pack Chocolate Bunny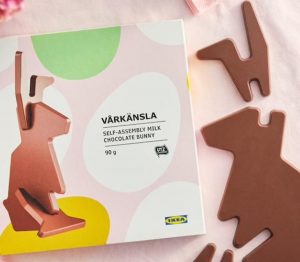 There is always a way to associate your business' brand with Easter. IKEA isn't a brand that immediately comes to mind when thinking about Easter. However, in 2019, IKEA joined the Easter Season fun by releasing its limited-edition Flat Pack chocolate bunny, Vårkänsla, complete with instructions on how to build it, as in all IKEA products.
The combination of good humor about IKEA's own flat packing, chocolate, and Easter, created a big hype on social media which drew consumers to their local IKEA store.
Durex Easter X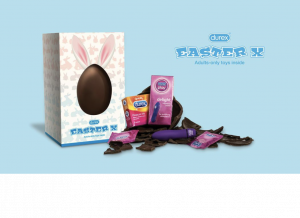 Durex is a perfect example of a brand that is the least associated with anything Easter-themed: condoms, lubricants, or sex toys are not something that goes well with the stereotypical Easter child-themed innocence or the religious aspect of Jesus' Resurrection.
The brand leaned into this incompatibility in 2015 with their Easter X campaign. A TV ad specifically addressed the issue and the struggle of what to offer for Easter, to introduce with levity their Durex Easter X: A chocolate egg filled with 'very adult' toys.
The egg could only be purchased through the brand's social media, which boosted engagement up to 10%. Their innuendo-filled, tongue-in-cheek, sincere acknowledgement of the lack of connection of sex with Easter was what resonated with customers and boosted sales to an unprecedented level.
Durex teaches us that even brands that aren't associated with the Easter season at all can ride the wave and use Easter's hype to reach consumers.
The Take-away
Giving up on a season because there is little association with your brand is a mistake. Social media is an excellent way to reach your target audience with content marketing or with some innovative campaign that associates your brand with Easter, even if there will be little chocolate in the bargain.