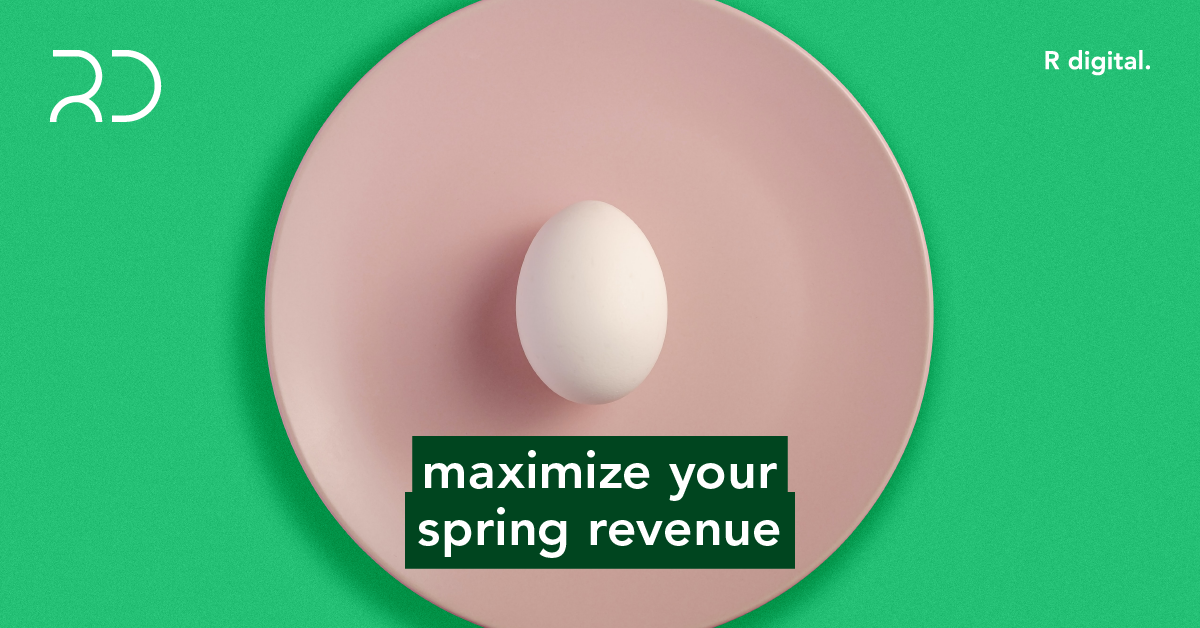 During Spring, everything in nature renews, giving a feeling of levity, joy, and freshness- all perfect emotions to inspire potential customers. That is why, along with the rebirth of nature, you should also renew your approach and breathe a feeling of freshness into your communications and interactions with your target audience.
It's not just because it's poetic- it's because this is your chance to get your products and services before consumers' eyes during one of the biggest shopping seasons of the year! When people are in a mood to renew, they are also in the mood to buy the things to do the renewing with!
Spring is also loaded with different holidays and commemorations that further inspire people to spend and purchase- and one of the biggest is Easter!
Easter is the highlight of Spring for Christians, even more so for those of the Orthodox dogma. The rise in Easter-related holiday purchases is significant even during hard times, and favorably affects all possible sectors of retail, not only food or clothing or strictly Easter-related items.
Shopping during Covid-19 is no different; in fact, it potentially works in favor of e-shops, since a lot of the purchases during the Covid-19 pandemic happen online and are likely to keep doing so.
Considering that Easter is on May 2nd for Orthodox Christians this year, you have a great opportunity to prepare a streamlined, efficient e-mail campaign now and ride the wave of this year's seasonal spring shopping!
Even if your brand doesn't have an immediate connection to Easter, it will pay off well to create an Easter e-mail campaign regardless, and here are three approaches that are going to help you maximize your visibility during the Spring season.
Build Hype
You should begin your campaign well before Easter. Priming your customers for a Spring season promotional drop will help them be prepared to spend instead of potentially taking them by surprise.
Conversions happen when people are ready to buy, so make sure that your e-mail announces a date well before, with a message that will create curiosity and interest, excitement, and anticipation.
Such messages could include a big sales event, or coupons for "early access" to certain popular products that will be arriving, or a special treat of some sort that makes the consumer feel unique or cleverer than the rest for having managed to secure it.
Often, even a warning that an offer holds "until stocks last" may push consumers to make the purchase early lest they miss out on the opportunity.
Pamper Your Best Customers
Sooner or later, you will have a short list of 'best customers' or VIPs. That is the time to launch your "Premium Access" or "VIP" e-mail, where you will be informing your clients that if they choose to join the program, they will get extra privileges and access to coveted products with less competition from other buyers.
Adding extras, like free gifts with every package and other promotional items will also help your customers return to make more purchases and keep their VIP status.
End with a Bang
When your Easter or Spring Season Event is about to end, it pays to send another email notifying your customers that their window of opportunity is swiftly closing.
Put a timer for a countdown during the last few days of the event, and make sure that products which are low in stock are put in the forefront, to give the impression that not only the opportunity but the products themselves are quickly running out!
Have a surprise mini event on the expiration of the countdown. This could be a short extension to the special sales or offer, or it could be another type of event, such as a raffle or an extra gift or coupon.
Finally, remember to make your Easter emails stand out from the rest. Use catchy subject lines, preferably with some level of personalization, and employ seasonal templates that will showcase your campaign and instill curiosity that will push consumers to make that click.